---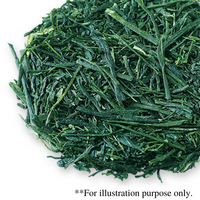 6584 SENCHA "YAKUSHIMA" 2023
SENCHA YAKUSHIMA 2023 Green tea with brisk aroma and refreshing sweet taste from Yakushima, a World Heritage site. Only available in limited quantity.
Teas from Yakushima are cultivated in a foggy environment with well-drained slopes, and generally feature a well-balanced flavor with moderate richness, sweetness, and present a fragrant aroma from the tea leaf itself.
Yakushima is an island with surrounding mountains having altitudes of over 1,500m (approximately 4,920ft) and is located in the south of Japan.  It is famous for Jomon cedar and Mononoke no mori forests, where abundant wild nature still remains. The difference in temperature between day and night, the deep mists veiling the island, and the clear water bring forth high quality tea leaves. Most of the tea estates are located in relatively cooler areas, in the northern half of the island.
How to brew this tea <One 150ml(5.0fl oz) cup> Infusion: 1-2 cups
 Amount of tea leaves

   3 - 4g (0.14oz)

 Water temperature 

 

 

167 - 176°F (75 - 80°C)

 Brewing time

  45 seconds - 1 minute