---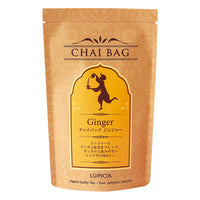 5852 CHAI GINGER
CHAI GINGER is a refreshing, mildly spicy ginger chai with a full-bodied Assam black tea. Follow the microwave instructions or simmer on the stove to bring out the full spice flavor. Add milk and sugar to your taste.
*Only available in 10-teabag package (Available in limited quantity) 
*The Best Before date of CHAI GINGER 10 tea bag package is 11/2020. ALL SALES FINAL.